"Information is Power; it should be just a click away." In this tech savvy world, we realize the role of school in making students proficient from the day one. No profession can run in isolation as almost everything is interwoven with Information Technology. Our enthusiastic young students will be the budding professionals tomorrow, so, IT training is given keeping in mind today's needs and tomorrow's vision. We have three IT Labs: • For the Senior Classes • For the Middle Classes • For the Primary Wing Digital Technology in the form of smart classes is used at JPS to provide multi-sensory learning. What might otherwise seem dull or monotonous with just text-book studies, becomes bright, and captivating in the flash and animation movies, which re-affirm the concepts already taught in class. This makes the process of learning fun and also ensures the lasting impact on the tech-savvy minds of today's generation. Smart Classes add to the quality of teaching in the following ways: • Help in bringing abstract and difficult curriculum concepts to life. • Enable multi-sensory learning in classrooms • Enable instant formative assessment of learning outcome in class Over all they make learning fun and improve academic performance.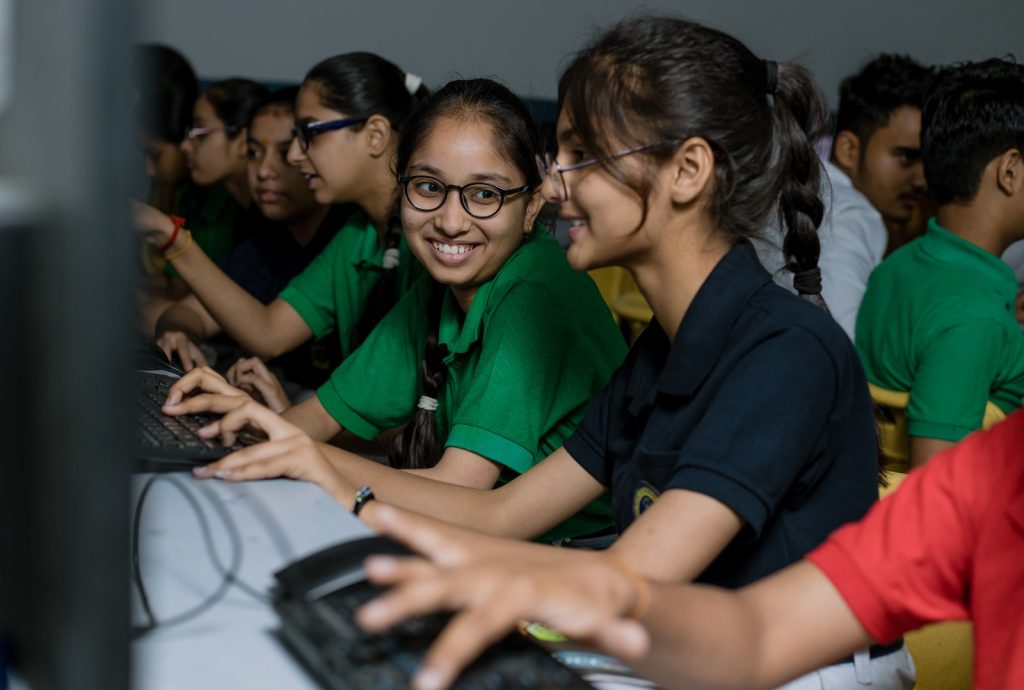 A well equipped air conditioned English Language Lab with a capacity of 40 students has been established in a peaceful corner of the school. The motive of this lab is to enable the students to speak correct English according to BRP (British Received Pronunciation) so that they may stand along with the native speakers of this language in this modern world of competition. Students are made to listen to the audio CDs related to the conversation pieces of the language through headphones so that there may not be any kind of distraction from outside. Through headphones they can easily recognize the difference in the pronunciation of sounds which are very close to each other and use them accordingly. Besides, knowledge of phonetics is also given to students here.
This lab also has the facilities of visual aids like color TV, VCR & LCD which are used frequently for the students. Due to the sound proof quality of the lab, voices of students can also be recorded & they can be made to listen to their own spoken English & identify their mistakes themselves.
Now-a-days when English has become the Global language, this lab acts as a strong helping hand for our students and the school is playing an active role in maintaining & developing this lab to provide the students with the best possible exposure in spoken English.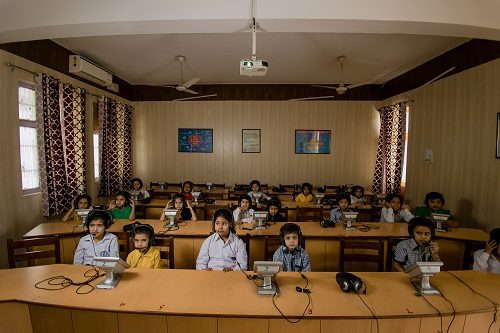 "Hypothesis become theories and theories attain rank of laws after withstanding various experimental tests. Feasibility of a process is confirmed only in the Labs."
We have maintained proper labs for Physics, Chemistry and Biology as per CBSE norms.
Physics, an important branch of science deals with the study of natural phenomenon. It involves accurate and precise measurement. Our Physics Lab is well equipped and updated which includes various kinds of instruments and devices like PN junction , Zener diode, transistor as an amplifier and optical devices like optical bench, telescope, microscope, magnifying lens etc. With the help of such instruments, students can do experiments and prepare working models.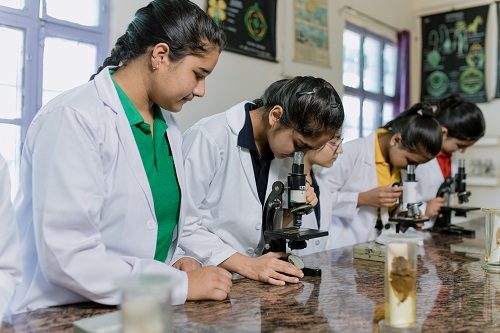 A Chemistry Lab is a workshop for chemist. Here students learn the techniques of preparation, identification and estimation of chemical substances. Our Chemistry Lab is well equipped and provides the basic facilities like demonstration table for teachers, working table with reagent bottles for students, water taps, gas taps, sinks, side shelves, cupboards for keeping concentrated acids, balance room etc.. The common laboratory apparatus which a student frequently uses during the practical like test tubes, beakers, flasks, funnels, china dishes, glass rods, burette, pipette etc are also available in bulk. Students have to follow some specific rules to work in Chemistry Lab and they are also advised to observe certain precautions during practical's.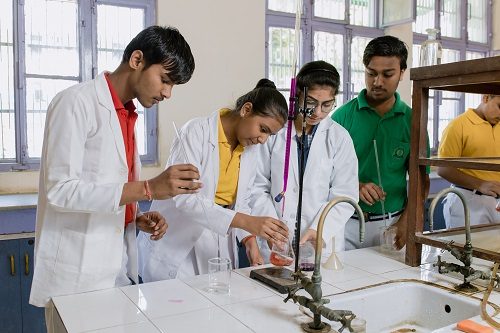 The purpose of Biology Lab is to make the students aware of environmental components and to inculcate the attitude of getting information of Bio World. In Biology Lab students come to know about the bio diversity of the world. The lab is provided with skeleton , microscope, specimens of multiple organisms to get familiar with the diversity of living world.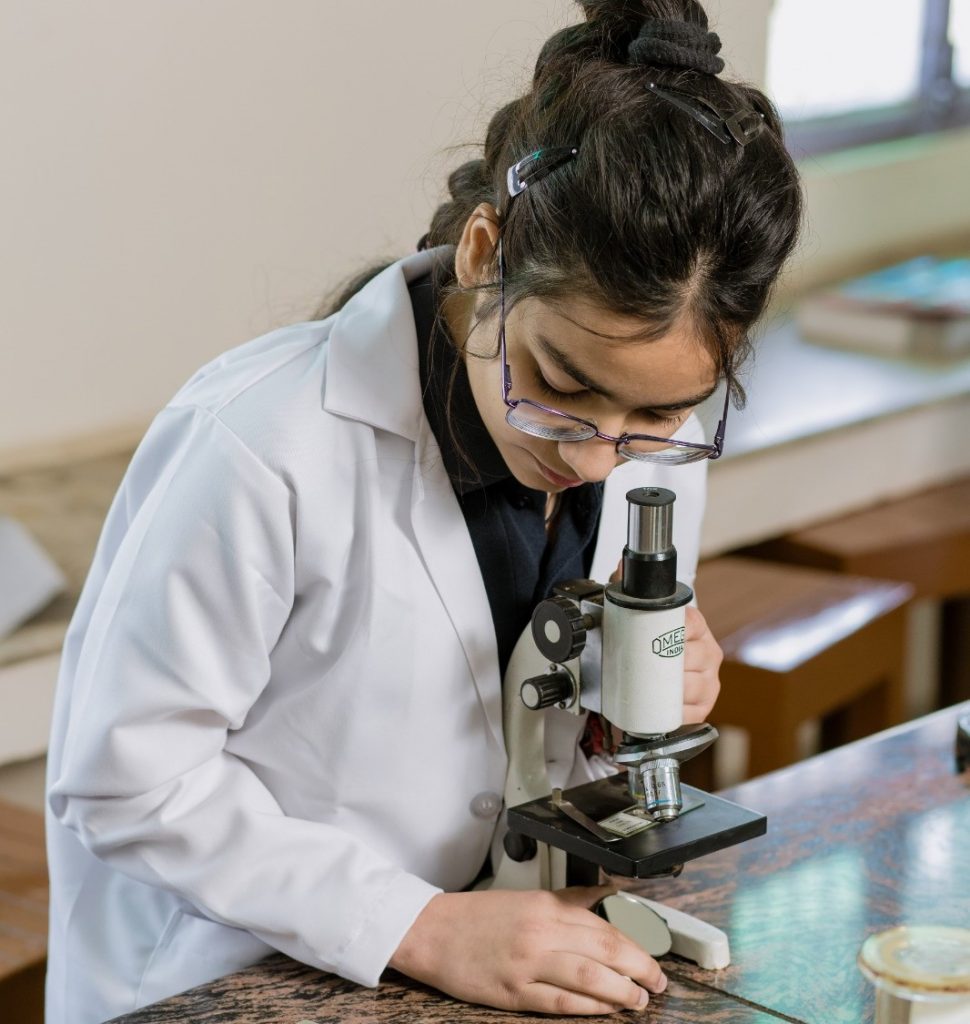 Maths is fun and our aim is to make it so. We have taken this challenge of removing the fierce "Maths phobia". The Lab creates an environment for student-centric explorative learning (learning by doing). It inculcates learning through applied reasoning. The Lab is equipped with a complete range of tools to understand Maths with relation to the practical life. A lab with models & projects based on Mathematical concepts to promote activity based learning in mathematics and to stress upon "Learning by Doing". This learner centered approach to Maths Lab helps every child imagine, investigate and interact effectively.
The school has two well – furnished libraries for senior & junior wings with the capacity of 10,000 books. Standard reference books like world books Encyclopedia, Child Craft, Young Scientist, various dictionaries, Insulated History of the World, Yearbooks, Handbooks of Horticulture etc. are available in the library. The collection comprises of fiction & non – fiction segments and there are separate sections for Commerce & Science students which fulfill the needs of students as well as faculty members. The school subscribes to various daily newspapers, weekly & monthly journals and magazines. To inculcate reading habits in students, class room library system has been adopted for classes I to V. Auto-biographies of great personalities are also available for the students. 'The Tribute in Education' Programme has been in practice for the last two years for motivating the students for reading newspapers.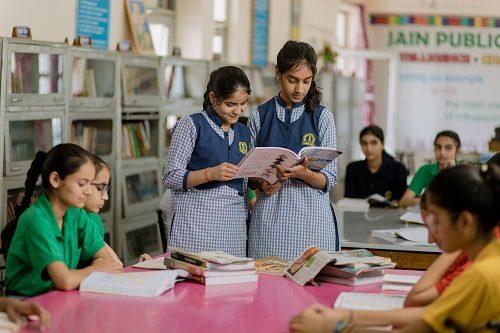 Play ground is a different tool of education altogether. Besides sports & games, it teaches team spirit, leadership, determination, focus and management. Above all, it imparts the winning spirit. For all these reasons and more-'All work along with lots of play', is the school mantra as far as sports go.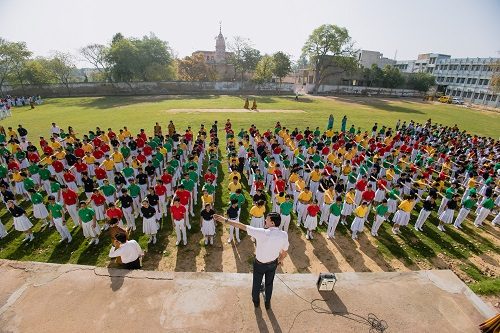 A well equipped Medical Room is there in the School. A qualified doctor and a trained nurse look after the students in case of any illness. Regular checkup for students is undertaken by professionals with School Doctors maintaining a proper health card and updating the parents about their Child's medical status and needs.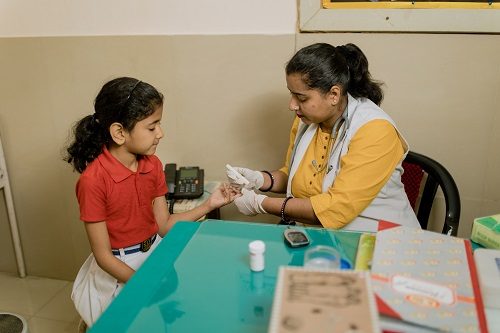 The school has a separate 'Art Room' where creativity of students is nurtured with necessary equipment to sensitize their aesthetic qualities. The room is wide and airy, providing ample natural light for young creative minds to ideate. Every session with the trained instructor provides them with guidelines for working on various art projects. All basic craft material is provided to the students. Their work is then display on mounts that span the length of the classroom, right at the entrance.
The school provides equitable access to music and all the benefits that can be gained through its learning. By promoting traditional music education, our aim is to foster an appreciation for music, build self-esteem, teach critical social skills and engender creativity and innovation.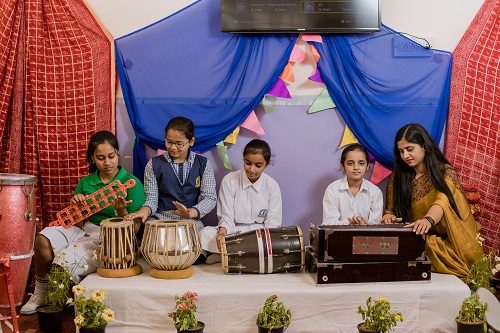 The auditorium is a central and important space in any high school. It is used for all types of formal assembly: lectures, award ceremonies, dramatic plays, musical theatre productions, band, dance competitions and so on. These varied events place a range of demands on the room. For all events, it is essential that everyone in the room hear, clearly and enjoyably, everything that is presented. This is the goal of acoustical design for auditorium spaces. For the same purpose Vidya Sharnalaya ( name given by Muni Shree 108 Parnamya Sagar Ji) was inaugurated in the month of August 2017.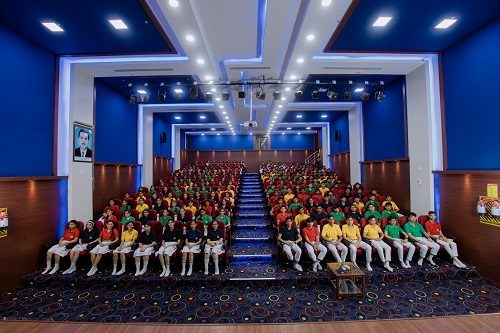 Giving students' health a prime importance, a highly hygienic canteen is maintained. Only hygienically prepared food stuff is served. No junk or fast food is sold.